Welcome to the Reception Home Learning Page
Here you will find work which you can complete at home.
Use the links below to consolidate your learning.
If you wish to contact your child's class teacher, please do not hesitate to use the emails below.
Reception Metcalfe
rmetcalfe.dalton@kirkleeseducation.uk
Reception Stoker
rstoker.dalton@kirkleeseducation.uk
If you have misplaced your passwords for Reading Eggs or Purple Mash, please email your child's class teacher.
Week 7 of home learning.
Well done to you all for the amazing work you did the last half term, we are very proud of both children and parents for all you have achieved. Hope you all had a well deserved half term break.
Maths this week has seen you represent the numbers 9 and 10 and ordering numbers 0-10. Did you enjoy playing eye spy or bingo using these numbers?
Our book this week was Jack and the Beanstalk and it has seen some wonderful character drawings, labelling and sentences. Did you enjoy the story? What would like to find at the top of a beanstalk?
It has been great to see the return of some nicer weather, this will help with our topic of growing. Are you getting ready to do any planting? As Spring is just around the corner.
Keep up with your reading and phonics next week, it is important we try and do this every day.
We are looking forward to seeing you all back in the classroom from the 8th March, keep up the good home learning for next week and take care.
Daily lessons... Daily lessons... Daily lessons... Daily lessons... Daily lessons... Daily lessons...
Monday 1st March
PE
Choose which you would like or do both one to burn off energy and one to help calm them down!
Joe Wicks PE lessons-https://www.youtube.com/channel/UCAxW1XT0iEJo0TYlRfn6rYQ
Maths
Counting back from 10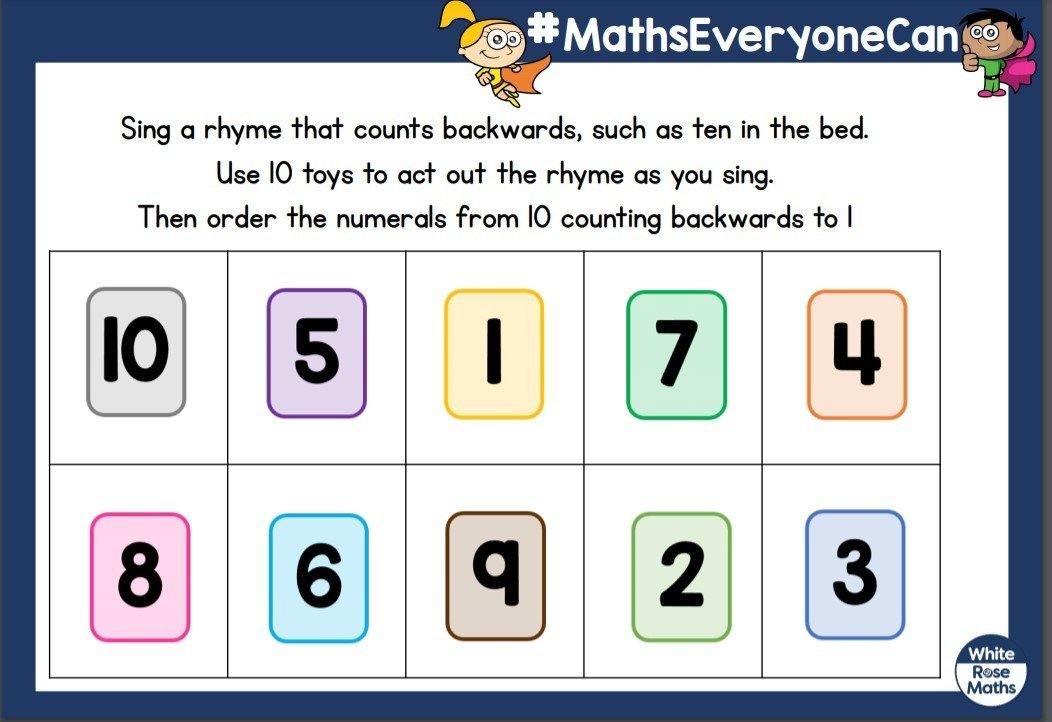 Another rhyme which you could sing is 10 Green Bottles.
Topic
Mr Richardson would like all of the school to learn this song "Believe". Begin learning it today and keep on practising it during the week so that we ca all sing it together when we return next Monday.
https://www.youtube.com/watch?v=BK6J4haWzHI
Learn the song and see if you can do any of the sign language. This song is our lockdown anthem!
World Book Day
It is World Book Day this Thursday. Why not have a scavenger hunt using the books in your home? See if you can find each of the different characters in your books. How many can you find?
Tick them off on this sheet. Scavenger Hunt
Which book is your favourite? Can you draw a picture of your favourite part?
Thursday 25th February
English
Read Jack and the Beanstalk again. Are there any parts which you can join in with?
Who are the characters in this story? Which character is the main character? Draw one of the characters and label with some words to say what they look like and how they behave.
Maths
Composition of 9 and 10
Lets Read the book 10 Black Dots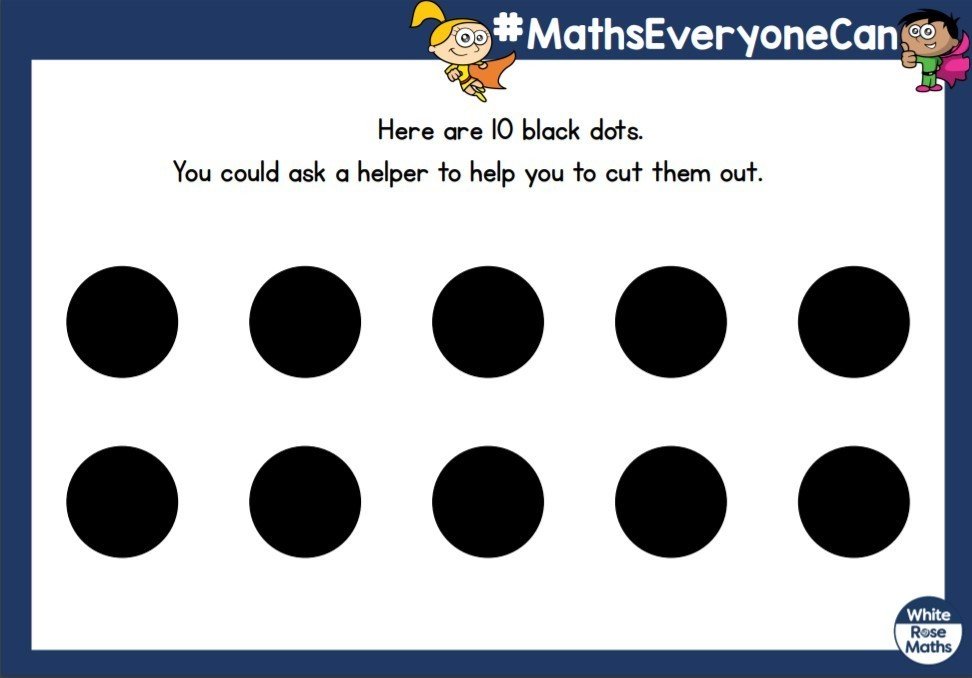 Phonics
Do some of your Fast Phonics.
Your child will need to have a variety of reading opportunities whilst at home. This link will take you to a website which has decodable comics which link to the phonemes which your child has been learning in class and as part of the letters and sounds videos which they have been watching whilst in isolation.
Here is a message from a useful phonics website called Phonics Play https://www.phonicsplay.co.uk/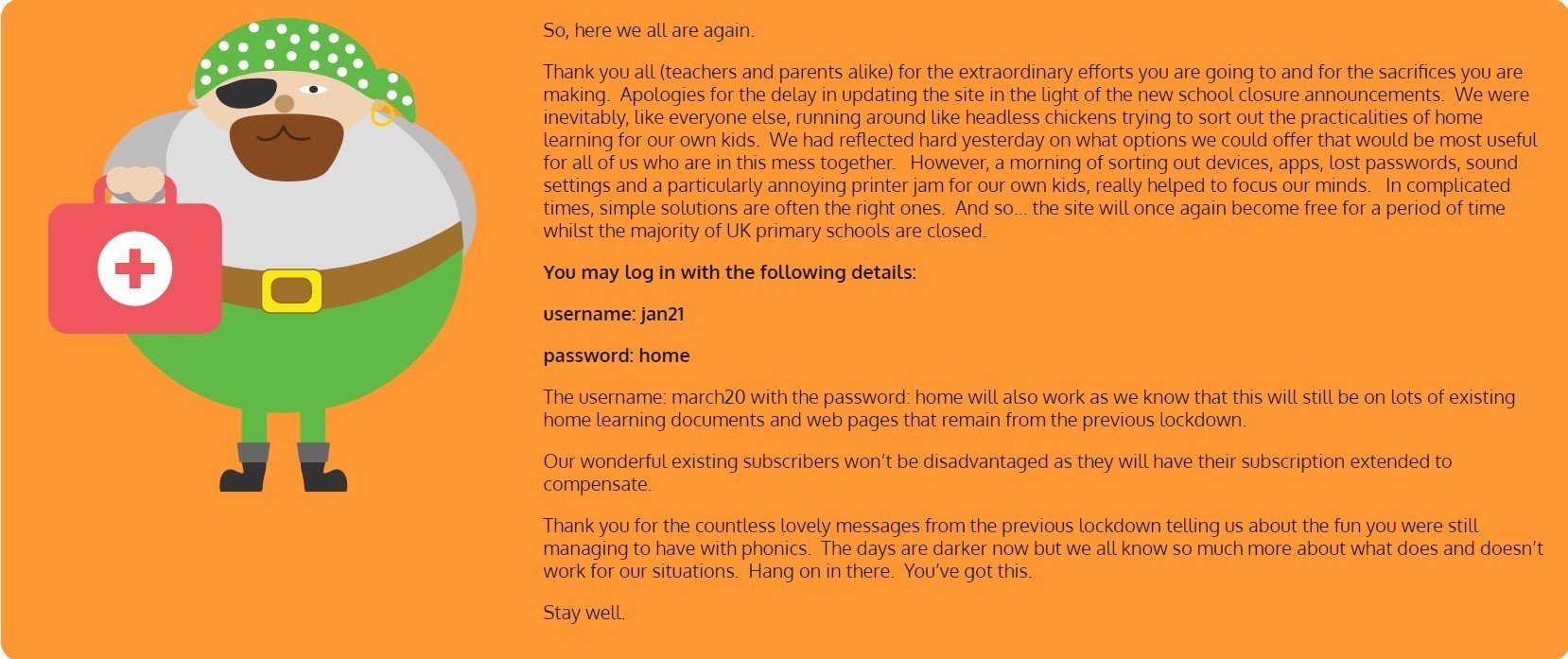 Example of a Daily Timetable for a Reception Child..
Letters and sounds daily lesson- 20 mins (see blue link at the top of this page)
Maths Daily Lesson -20 mins (see blue link at the top of this page)
Daily Literacy Activity- 20 mins
Daily numeracy Activity-20 mins
Daily Topic/other Activity from EYFS curriculum- 20 mins
Purple Mash 'To Do' Activities-15 mins
Reading Eggs- Complete one level - 15 mins
Maths Seeds- Complete one level- 15 mins
Fast Phonics (which is on Reading Eggs) or Phonics Play - (see blue link at the top of this page)- 15 mins
Reading school reading book or other books from home or online - 10 mins
This is a guide for parents and not set in stone. All children are different and learn at different speeds.
Please remember your child will need a break between each activity and time to choose their own learning through play at home. Eg building with lego, baking with you, drawing, painting, cutting, glueing, physical play if you have a garden etc
Click here (on the picture) for a link to the Reading Eggs Website. Please allow your child the opportunity to do this daily.
Click here (on the picture) for a link to the Mathseeds website. Please allow your child the opportunity to do this daily.
Click here (on the picture) for a link to Purple Mash. We will give directed tasks to do here but your child can access this and explore at other times.