Home Learning January 2021
Welcome to the Year home learning page on our school website. Most of your work is set on class dojo but we will sometimes direct you to come here to check out videos and other bits of learning!
Get rid of the 'to do's that are clogging up your 'to do' list on Class Dojo! Read this help sheet to help you to work out how to do it!
Having trouble typing on class dojo? Check out this information and see if it helps!
Monday 18th January - 2Bamforth English
Watch the video to help you with your ideas for writing the build-up in our story.
Friday 15th January - 2Bamforth English
Watch the video to help you with your ideas for writing the opening to our story.
Thursday 14th January
Good morning! Here is the new video for English for 2Bradnum and 2Butler/Lightowlers!
Wednesday 13th January
Good morning! Most of your work is set on class dojo but here is the video to help you to write the build up of your story, if you are in 2Bradnum or 2Butler/Lightowlers.
English: Watch the video to help support you in writing your story opening today! all of 2Bradnum and 2Butler are doing this activity. Which class will write the best openings! Make sure that you have a go so that your class is the BEST!
Calculation Practise
Here are 4 videos to remind you of the column method for both addition and subtraction.
Column addition - Not crossing the 10s. E.g. 23 + 42 =
Column Subtraction - Not exchanging. E.g. 47 - 13 =
Column Addition - Crossing the tens. E.g. 47 + 26 =
Column Subtraction - With Exchanging. E.g. 73 - 26 =
PE: Here are loads of recommended websites that can help your child to stay active! Which ones will you check out! At the weekend, Miss Bradnum did some wake up shakes ups on Youtube with her daughter. They had lots of fun and it was actually lovely, quality family time spent together.
Monday 11th January
All Year 2 Classes - Spelling PowerPoint
Here is Miss Bradnum showing how to use a story map to retell the story of 'Lila and the Secret of Rain'.
Don't forget the videos of her reading the story and of the Active Vocab Blast are here too. Just scroll further down the page! .
Friday, 8th January
2Bamforth - English Video PART 1
Read by Miss Bamforth
2 Bradnum and 2Butler/Lightowlers Vocabulary Active Blast!
Don't just watch this! The rule is you have to be on your feet and ready to join in!
2 Bradnum and 2Butler/Lightowlers text
Lila and the Secret of Rain- read by Miss Bradnum
Here is a link to a video of a teacher in New Zealand, teaching a lesson about similes. It might help you to understand your learning more deeply and you can always write some extra similes in class dojo and send them to your teacher but only if you have time and would like to!
USEFUL WEBSITES:
Double click on the images below to take yourself to the webpage you want:
Reading Eggs

Reading Comprehension and Spelling activities. We can check your child's progress on here too!

All children have a login for this that has been sent home. Please contact us if you do not have your log in.

TT Rockstars

Times-tables and multiplication activities. We can check your children's progress and can adapt activities to match your child's ability. Children should access the 'room's that say 'teacher set' at the bottom.

Numbots

Games and challenges to develop all mathematical concepts.

Use your TT Rockstars login and password to access the website.

Computing and digital skills linked to the whole curriculum. We will soon be setting tasks for you to do on here! But you can also explore and complete tasks of your own choice!

Get involved and get active! He has lots of saved videos and makes new one regularly too!

This website is giving free access for the time being.

There are lots of games and fun activities here. It's a great site for reminding Year 2 of all the phonemes and graphemes that they should know.

This is just for a few children who are working through this programme.

You already have a password for this if your child uses it. Contact us if you lose your log in.

FITNESS: Zumba- I like to 'Move it Move it'

Another fun way of getting in a blast of exercise! Go ahead and try it!

If you do this work out- it usually links straight on to the 'Electronic Song' from Minions. You will have great fun doing this!

Fitness: Dance with Oti Mabuse

If you like dancing then check out Oti Mabuse's Youtube channel. There are lots of links to dances linked to all sorts of things! The dance classes are aimed at children and it certainly gets you rather warm as well as being lots of fun!
Another fun idea for keeping fit! Choose a word and then do all the activities to match the letters in the word!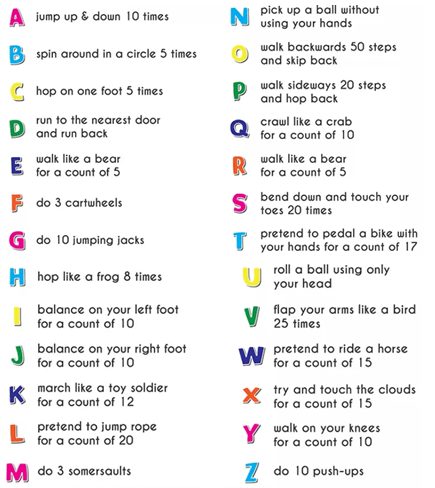 Spelling and Phonics - Phonics Play Website
Here are some activities that you can do online to polish up on your phonics, if you are able to access it.
Google Phonics Play and then log in. The FREE log in is on their homepage.
Go to Resources and you will see lots of different games.


Select Tricky Trucks. Choose Phase 5 All HFW.
You can change the route, truck and colour and then you need to read the words as quickly as you can.
Ask an adult to click correct or incorrect for you and see how many you can get in the time limit.


Select Buried Treasure. Choose Phase 5.
Choose which sound you would like to practise.
You can choose Revise all Phase 5 if you want a challenge! You need to read the word and decide if it is real (treasure) or an alien word (trash). Drag the word to the correct side.
Select Cheeky Chimps. Choose ow.
Read the word and then drag it to the chimp with the same pronunciation.


Story time
Lots of our Year 2 staff have recorded themselves reading different stories. Why not have a listen. We would love to hear which is your favourite one. If you have a request, email your class teacher and we will see if we can record it for you!
Fantastic Mr Fox - Chapter 2
Fantastic Mr Fox - Chapter 1
Read by Miss Bamforth
Here is Miss Bradnum reading 'When I Grow Up' by Tim Minchin.
Here is Mrs Lancelot reading an extract from 'Matilda'!
Miss Bradnum carries on the story here...
Here is another extract from 'Matilda' for you to enjoy from the chapter 'The Hat and the Superglue'.
Miss Bradnum carries the story on...
The story of Hansel and Gretel
'The Dentist and the Crocodile', read by Mrs Hirst.
Below are some stories that you can enjoy listening to!
'Giraffes Can't Dance' by Giles Andreae, read by Miss Bradnum
'The Paper Bag Princess' by Robert Munsch, read by Miss Bradnum