WARNING - FEBRUARY 2019
Momo is a sinister 'challenge' that has been around for some time. It has recently resurfaced and
once again has come to the attention of schools and children across the country.
Momo has been heavily linked with apps such as Facebook, WhatsApp,
YouTube, and most recently (and most worryingly)... YouTube Kids.
The scary doll-like figure reportedly sends graphic violent images, and asks users to partake in dangerous challenges like waking up at random hours and has even been associated with self-harm. It has been reported that the 'Momo' figure was originally created as a sculpture and featured in an art gallery in Tokyo and unrelated to the 'Momo' challenge we are hearing about in the media.
Update-
We have been sent this update from Kirklees:
Our feelings and advice regarding the "momo" scare are similar to the "blue whale game". While there have been some reports of a game being played, it transpires to be more of a chain-mail type situation. We do not advise sending out warnings or mentioning the name in newsletters as this could lead children & young people to look for it. Our messaging is to have open and general conversations with children about the kind of content they could encounter online, and to ensure children know where to go/who to turn to if they do come across something unsettling. Moreover, it is important that as professionals we are setting an example ourselves, making sure the information we are sharing within our networks is factual and useful.
If you want any more information regarding this, then read this article from the Huffington Post .
Look at this video to help with ideas how approach these types of situations with your child.
https://www.bbc.com/ownit/its-personal/when-you-see-something-scary-online
WARNING - June 2017
SnapMaps
Last week SnapChat, used regularly by many children and young people, launched a new feature. SnapMaps allows users to see the location of their contacts. This feature allows others to accurately pinpoint where you are. Remember a child sharing their location can be a very risky thing to do.
There are three possible privacy settings on SnapChat:
Ghost mode, where only you can see your position;
My Friends mode, where any contact can see your location; and
Select Friends mode, just those who you choose can see you
ChildNet have posted a thorough explanation of SnapMaps and how to ensure users stay safe.
This is an extremely popular app with young people and it is discussing with your children.
.
Further detail can be found at: Introducing SnapMaps (ChildNet)
WARNING - we have been asked by the Kirklees Safeguarding Officer and the police to share this message with parents:
The Blue Whale game is a dangerous game that is popular at the moment in Russia and spreading across Eastern Europe.
The game is played online and spreads through social media.
Players are appointed a "master/teacher" and these "masters/teachers" challenge the players in stages, to tattoo a Blue Whale somewhere on the body, usually the arm or the leg. As the game goes on the players are encouraged to self-harm and the final challenge is to commit suicide.
All these actions have to be filmed and shared via social media to the so called "master/teacher". The game is being played by children of all ages, some as young as primary age, but predominantly by teenagers.
Apparently this game has been mentioned on the Romanian News due to the seriousness of the consequences.
This obviously sets a worrying trend and the game has already been mentioned at a school in Leeds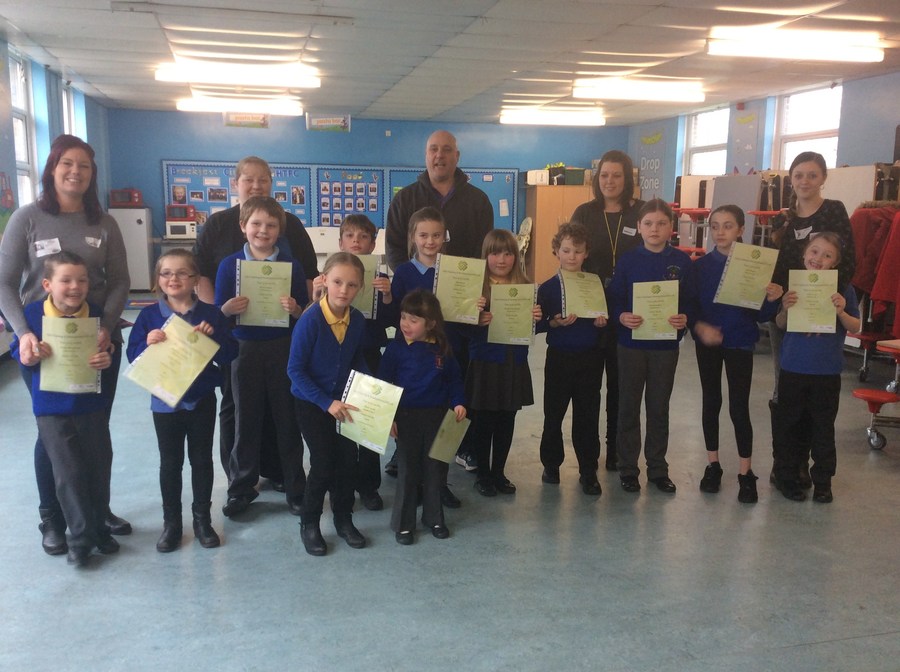 Congratulations to all 13 children and their parents who passed their 1st Aid training with S&H Family 1st Aid Training.
At Dalton School we are committed to supporting children to:
be healthy
stay safe
enjoy and achieve
make a positive contribution
achieve economic well-being
Click the link to find out more about the "Every Child Matters" programme.
We are a fully inclusive school, offering equal opportunities for all.
Top Tips for Positive Parenting
Parking
As is the case with most schools, parking is a serious problem at the beginning and end of the school day. Please respect the parking restrictions around the school site, they are in place to ensure the safety of children. Parents are able to use the Car Park on Grosvenor Road and walk the short distance to school. Parents should not use the front and rear school car parks as they are for staff and visitors only.
Valuables in school
Children should not bring valuable belongings in to school. We cannot accept responsibility for personal belongings that are lost or stolen.
Finding Out More
We will keep you informed through:
Consultation evenings (one each term)
An annual progress report
The Annual Governors Report to Parents
The Annual General Meeting
Regular newsletters
Celebration Assemblies
Appointments with teachers
The school website
E-Safety
The internet is such an integral part of children's lives these days. It opens up so many educational and social opportunities, giving them access to, quite literally, a world of information and experiences.
Whether on a computer at school, a laptop at home, a games console or mobile phone, children and young people are increasingly accessing the internet whenever they can and wherever they are.
As you would protect your child in the real world, you will want to make sure that they are safe whatever they are doing. Like learning to cross the road, online safety skills are skills for life. If your child understands the risks and can make sensible and informed choices online, they can get the most from the internet and stay safe whilst doing so – particularly from those people who might seek them out to harm them.
So, how can you protect your child online?
It is important for you to understand the internet and understand what the risks are, there are a number of things you can do that will make your child safer online. Please see the links below for further information:
http://www.childnet-int.org/kia/
http://www.nextgenerationlearning.org.uk/At-Home/Internet-safety/
http://www.direct.gov.uk/en/Parents/Yourchildshealthandsafety/Internetsafety/index.htm
Internet Safety Video:
Emergency Closures:
Severe Weather Conditions
Listen to Pulse Radio or Home FM for further information
Check the school website http://www.daltonschool.co.uk/
Check Kirklees Council's website – 'Emergency School Closures'
Watch for texts informing you of any updates
If the weather deteriorates quickly during the day, please come and collect your child.
Please assume that any after school activity is cancelled and collect your child promptly.
No child will be allowed to leave during the day without an agreed adult, or without the consent of a parent/carer.