Curriculum Intent
At Dalton School, our curriculum is derived from a precise understanding of the context of which we serve. Our vision is focused on the school in the community and the community in the school. Thus, wherever possible we engage parents and other visitors in order to value our community and broaden children's minds to their citizenship role. Our intent is also focused on developing children's aspiration through enterprise and giving them purposeful opportunities to engage their pupil voice. Across the curriculum, such experiences are founded upon instilling school values and aims and these are underpinned by British values to erode misconceptions about culture, faith and sexuality. Everything we do is progressive and built on closing the learning gaps, particularly for the most vulnerable, including the lowest 20% in early development specifically in communication, language and literacy and knowledge and understanding of the world. As a result, we carefully consider topics to develop children's capital and social, moral, spiritual and cultural development. The most effective way of doing this is by means of high quality narrative and non-narrative texts because these give children the content knowledge and vocabulary to make connections and so enables their academic and creative endeavour, through a love of reading.
Through this intent, we also strive to ensure breadth and depth in all aspects in subjects so children become masters of their own learning, whatever their ability. Increasing children's ability, across the curriculum to justify, reason, conjecture and hypothesise is founded upon a whole school strategy to promote self-efficacy, including perseverance, resilience and other characteristics of effective learning.
With the intention described above, the curriculum is designed to challenge prejudice, promote equality and engage an ownership and love of learning so that at the end of their primary years children can explain preferences and begin to establish initial ideas about career choice.
EYFS Curriculum
Intent
The curriculum is designed to:
Recognise and value children's prior learning from previous settings and home experiences.
Provide first hand engaging, stimulating and challenging, play-based learning experiences, allowing learners to build positive identities through managing and taking risks, having a go, developing resilience and promoting a 'can do' attitude.
Learner's choices and interests are the driving force for building knowledge, skills and understanding.
Provide high quality provision, along with high quality interactions, so that we are laying the foundations for the children becoming independent, active, successful and ambitious lifelong learners.
Every child is valued as an individual, safe and well cared for.
Offer a balance of child-initiated and adult-led learning using a continuous provision based approach.
Implementation
Across our EYFS, we follow the Early Years Statutory Framework for the Early Years Foundation Stage.
The Framework specifies the requirement for learning and development in the Early Years and provides prime and specific areas of learning we must cover in our curriculum.
Prime Areas covered - Personal, Social and Emotional Development, Physical Development , Communication and Language development.
Specific Areas covered- Literacy, Mathematics , Understanding the World, Expressive Arts and Design.
Focus at first is on the prime areas of learning. These form the foundation of a child's learning. Once the children are secure in these areas they will begin to work on the specific areas of learning.
A vital aspect in the development of essential knowledge and skills is the use of continuous provision. This means that children are using and developing taught skills throughout the year on a daily/weekly basis.
Continuous Provision practice and principles begin in the Early Years Foundation Stage and support children to develop key life skills such as independence; creativity, enquiry and problem solving.
Continuous provision areas are set up to reflect children's interests, as well as ensuring that reading, writing and maths are high profile.
Throughout a typical day, learners will have the opportunity to work independently, work collaboratively with their peers and work with practitioners.
There are several direct teach sessions taking place daily both in Nursery and Reception. These include phonics, maths, literacy, PE, Tumble Tots, Music, story, etc.
Impact
The impact of our curriculum is measured by our observations and assessments that we carry out on a daily basis.
The impact on our curriculum is measured by how well practitioners know each individual child.
The impact of our curriculum is measured by internal termly data, as well as measuring outcomes against the LA and nationally at the end of the EYFS phase.
The impact of our curriculum will also, in fact, be measured by how effectively it helps our learners to develop into well rounded individuals who are independent, active, successful and ambitious lifelong learners.
Learning Communities
What is a Learning Community?
At Dalton School, teachers work collaboratively using their expert knowledge and skills to develop different areas of the curriculum. They ensure that the National Curriculum is implemented to a high standard as well ensuring that there is progression of knowledge across the year groups, including Early Years Foundation Stage. Through regular monitoring, review and evaluation, learning communities are able to identify areas of strength and development within our school and provide support for staff in order for them to develop their subject knowledge. This is done through coaching and training, which in turn improves outcomes for all groups of learners.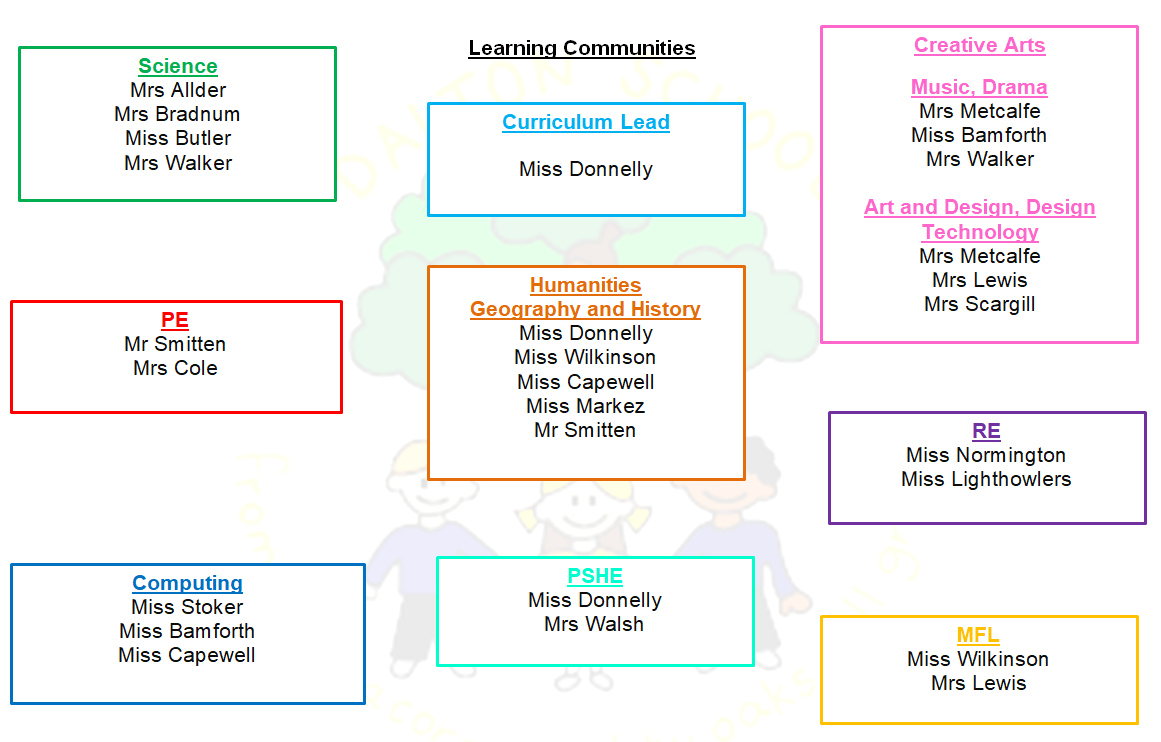 Curriculum Maps - Click on the year group to find out what they are learning throughout the year
Progression of Knowledge and Skills - Click on the subject to find out the knowledge and skills for each year group
Knowledge Journals
We recognise that when schools and parents work together, children's outcomes are improved. With this is mind, we have created half termly 'Knowledge Journals', which are used both in school and sent home for children and parents to refer to.
These relate to class topics and science work, and feature key facts, dates and vocabulary that children will need to learn in order to support their learning in class. In addition to this, there is a section that identifies previous knowledge that children should know.
Knowledge Journals are referred to on a regular basis during lessons, and children complete a pre and post quiz at the beginning and end of each topic to assess what knowledge and skills they already know and what they have retained.
Find the relevant year group and click on the topic below to see the Knowledge Journal
Autumn 1
Autumn 2
Spring 1
Spring 2
Summer 1
Summer 2

Year 1

Year 2

Year 3

Year 4

Year 5

Year 6



To find out more about our curriculum, arrange to see your child's class teacher or the Curriculum Lead Teacher.