Year 1
1Donnelly - Our class teacher is called Miss Donnelly and our teaching assistants are Miss Brook and Miss Gerrard.
1 Wilkinson - Our class teacher is called Miss Wilkinson and our teaching assistant is Mrs Hever.
Reading
In Year 1 we LOVE to read!
Here are some photographs of us enjoying a range of different stories and non fiction books.
Today year 4 came to read with us. We enjoyed sharing some of our favourite stories with them...
As part of our phonics learning we play lots of fun and exciting games to help us with our reading and writing.
Our Curiosity Cube
We love to discover new objects in our curiosity cube. Miss Donnelly puts something inside the cube each Monday and we have the week to try and predict what it might be. We love to discover what the objects are and how they link to our learning.
Spring 1 - Castles, Knights and Dragons
In this topic we have been defending our role play castle and writing adventure stories about Dragons and Knights. We have been learning about different materials and have identified the four countries of UK, as well as the capital city of England.
As part of our science topic this half term, we spent some time labeling all the objects in the classroom with the materials from which they are made. We had lots of fun using the post it notes and identifying all the different materials.
Autumn Term 2 - Out of This World
This half term we have been 'travelling' to space to learn about the different planets and the famous astronauts who have been there.
In this topic we have also been learning about the four seasons and different weather patterns. We have taken it in turns to observe the weather outside and record daily temperatures. We have then had the chance to become weather reporters on our own weather channel.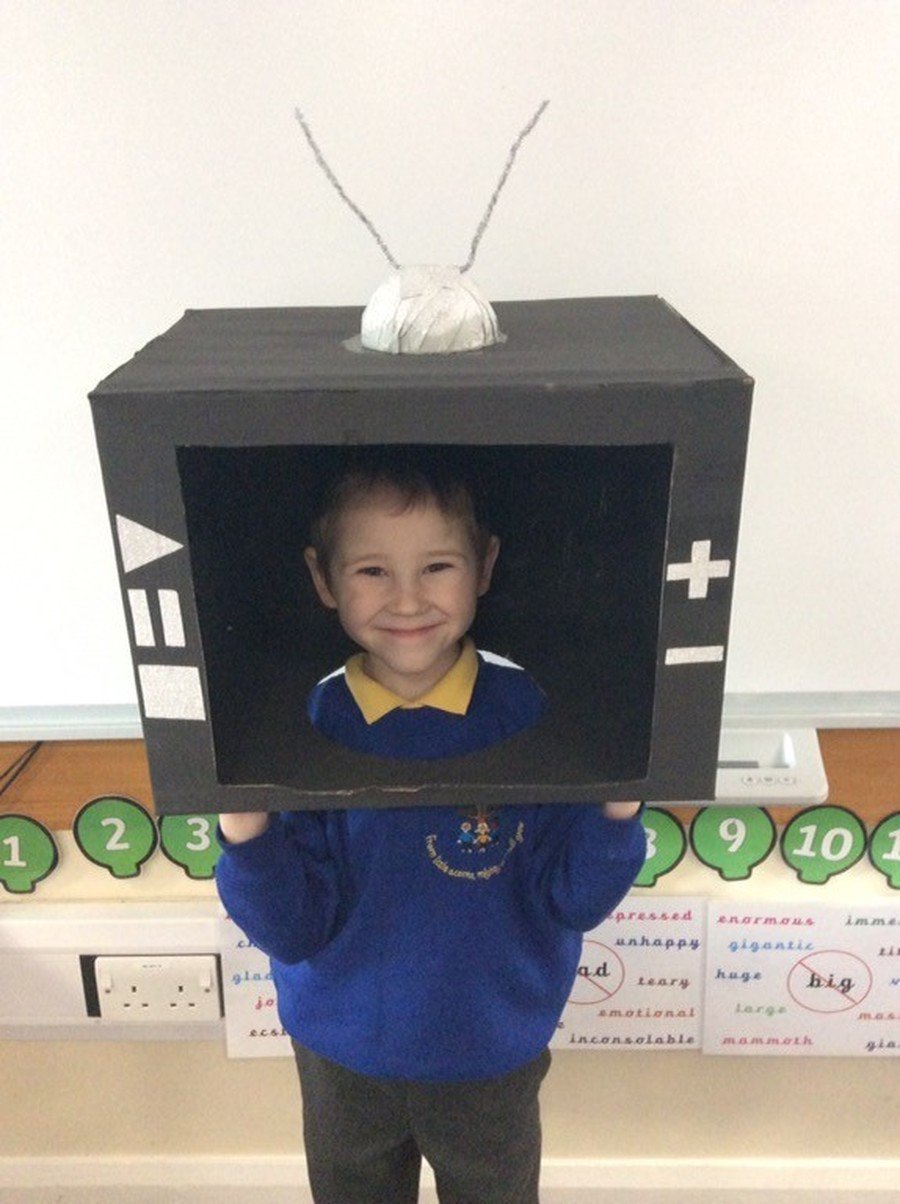 Some of us also created season wheels in the science area.
Here are some 'moon buggies' that we designed and made in the construction area. We used a range of construction materials and wheels to make our models move.
Autumn 1 - All About Me
This half term we have enjoyed learning all about ourselves and where we live.
Here we are labelling our bodies on large sheets of paper and with post it notes.
In this topic we have also spent time exploring our senses. We have used adjectives to describe what we can feel inside feely boxes, used our sense of taste and smell to describe a range of different foods, worn sim specks to support our understanding of sight, and listened to a range of sounds using our sense of hearing.
We have spent lots of time exploring our local environment. We have drawn our own maps and followed maps around school to find treasure!
We now know that we live in Huddersfield, in England, in the UK, in Europe.
In year 1 we also love art!
In the art area this week we have painted our own colour wheels. We have discovered that the primary colours red, yellow and blue can be mixed together in different ways to create the secondary colours orange, purple and green.
Today we went on a leaf hunt. We spoke about the different trees that grow in our school environment and learnt what the words 'evergreen' and 'deciduous' mean.
"Evergreen trees are trees that have green leaves all year"
"Deciduous trees are trees that lose their leaves each year"
This half term we have been reading the 'Owl Babies' story by Martin Wadell. We have really enjoyed the story and have used the leaves from our recent leaf hunt to add detail to our own model owls.